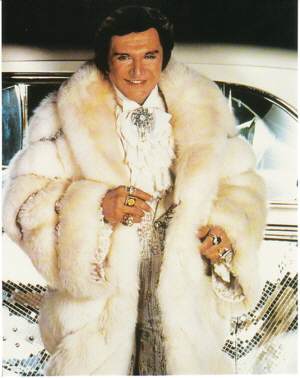 If the name George Allen Rekers is unfamiliar to you, then you've probably been in a coma for one week or off hiking in the wilderness. Lucky you! In brief, Rekers is a closeted gay man who has spent the better part of his adult life bashing LGBTQ people. Pam's House Blend will fill you in on
all the details
. It seems that Rekers is now attempting to claim that he is not "a homosexual." How could he possibly hope to be able to get away with such a ludicrous claim in the face of such overwhelming evidence to the contrary?
If Liberachi could publicly claim that he is not a homosexual and be believed, then why can't George Rekers? Yes, that was many decades ago and society has evolved "somewhat." However, people will always prefer a palatable lie to a challenging truth. The pathetic tragedy, both for George Rekers and for our society, is that some of the most homophobic people are repressed/self-loathing homosexuals. This tragedy is further compounded by the fact that even within the openly LGBTQ community there is yet another internal division.
In the movie "Milk", the gay Opera elite of San Francisco have an exchange with Harvey Milk. They are displeased at his activism. They have been "accepted" and found a respectable niche in society and they do not want Milk's brash activism upsetting the apple cart. I have found a huge rift within our community between "establishment" gays and activist LGBTQ folks. Just mention Lt. Dan Choi or Robin McGhee at a black tie fundraiser and wait for the flood of verbal vitriol that will follow.
You would think you were speaking with someone from NOM, NARTH, an evangelical or Republican. Nope, it is someone from our community. A "good little boy/girl" who, like Log Cabin Republicans believes that if you dress up, smile and ask very, very politely; then eventually you will be granted civil rights. I think that there exist two closets. The first closet in which many, like George Rekers, are trapped, and the second in which many LGBTQ people patiently wait for society to accept them. The Book of Revelation states: "So, because you are lukewarm, neither cold nor hot, I will spew you out of my mouth." [Rev 3:16]
Malcolm X said, "No one ever gave anyone civil rights, you have to take them!" Yes, self-loathing homosexuals, like Rekers, do great harm to our community. However, organizations and individuals in our community, who are willing to barter away justice for respectability arguably do as much, or worse damage. Whose hypocrisy is more damaging? Repressed people, like Rekers, who lash out at their own kind are at least psychologically understandable. Those in the well-healed, black tie set who settle can make no such defense. They are either naïve, or opportunists.
Why is one closet so vehemently condemned by our community and the other so blindly overlooked? Perhaps it is because most of us have moved beyond the first poisonous stage of coming out, but less of us have moved beyond the second stage. Like the Log Cabin Republicans, many in our community desperately want acceptance from "Society" and they want that acceptance at any price. That price is the repeal of DADT--next year. The passage of ENDA--when it is more opportune. The repeal of DOMA--maybe in three or four years.